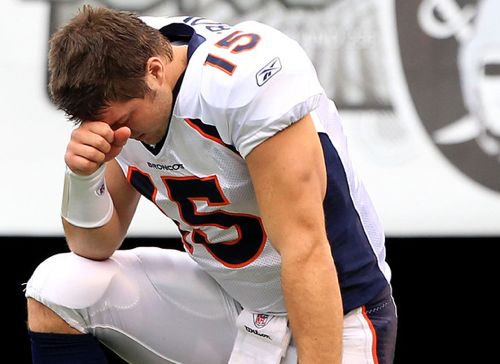 So the 2011 NFL season is almost over and we have seen some amazing play by some great players this season.  Aaron Rodgers led the Packers to 13 straight wins before losing 1 to Kansas City, then won the next 2 to end the season in first place at 15-1.  My favorite team the Steelers finished the season 12-4 with the leagues #1 ranked defense as has become common place these days.  Drew Brees and the New Orleans Saints are still rolling in the playoffs after a 13-3 regular season in which they topped the league in offense.  Topping the rankings in offense were also the Patriots, Eagles and Lions.  The Ravens and Jets made their usual showing in the top of the Defense rankings along with the Texans and 49ers. All these great teams and great stats yet the big news this season has been about a player who didn't even have a starting job.  Indeed he was the 3rd string quarterback.  He was a backup to the backup.
Tim Tebow!!
A name that everyone in America now knows, whether you are a football fan or not.  He plays for a team that finished the season 8-8 but because of the way teams play in the west that's like 11 or 12 wins in the east.  Which they may have actually gotten if they had started the season with him…just sayin'.  Anyway, the team was ranked 25th in total points, 23rd in total yards and 31st in passing yards (out of 32 teams) for the regular season.  So why then is Tim Tebow such big news?  Well, there are 2 parts to that answer.  Rushing yards and his faith in God that has made what shouldn't be possible, happen.
The Denver Broncos finished the season ranked #1 in rushing yards in the league.    As a result of what many call poor throwing mechanics, Tim Tebow has relied on his ability to complete run plays with an occasional long pass to put himself and the Broncos in a position to be both the envy of many teams and the brunt of many media jokes.    Last week Tim Tebow and the Broncos beat the Steelers 29-23 and threw for 316 passing yards (more than double their season average).  This week they face the New England Patriots and the media is so frustrated with the fact that Tim Tebow and the Broncos are accomplishing the impossible that they have even resorted to mocking his pregame and endzone prayer rituals on air.
Tim Tebow is very humble when he speaks about his faith in God.  He gives God all the credit for his ability and throughout Broncos games you will see him praising God for his success and that gets under the skin of those who don't believe.  But when you look at the numbers and you look at what the experts and scouts have said, is their any question that this is God doing what God does? Taking a humble servant to do something that on his own he could not accomplish?  Let's be honest, the Broncos numbers speak for themselves.  They started the season out losing 5 of their first 7, but God had a plan.  He took a team and a man and elevated them to the spotlight and allowed them to do things that they otherwise could not have done themselves.
This has however come with some negative effects not only from the media and football fans but I believe it's had some negative effects on Christians as well.  While I think it's great that Tim Tebow is outspoken about his faith and I wish more people on a major stage like him would use their fame for His glory,. there is a risk of Christians forgetting who we are supposed to be worshiping. When Tim Tebow was drafted there were a great many Christians who became fans of the Denver Broncos.  When he was moved to the starting position even more Christians began to profess their love for the Broncos and Tim Tebow.  Now there are people calling him the "Mile High Messiah"  or "God's Quarterback" all of this is not only leading to Christians looking like Bandwagon Fans or fanatics, but it also runs the risk of becoming idol worship, because we are now placing Tim Tebow on a pedestal that only God belongs on.  Take "Tebowing" for example.  The name society and/or the media has given to the position Tim Tebow takes before each game and when ever he scores a touchdown.  What they call "Tebowing" is Tim Tebow showing his respect and thanksgiving for God by kneeling in prayer.  To me, anyone calling it "Tebowing" is reducing his act of praise and worship to nothing more than the excessive showmanship of a "Lambeau Leap" or the "Dirty Bird Dance".
Finally, a word about why other Christian players in the NFL are not as heavily scrutinized.  I have seen quite a few players give praise to God before, during and after a game.  From kneeling in prayer before the game, to raising a hand to God in thanksgiving for a touchdown, yet we don't hear such uproar over these players.  The reason is because it has always been a part of their game and no one ever pointed it out.  When Tim Tebow played in the NCAA he wore bible verses on his eyeblack, something the NFL has not allowed in decades (contrary to popular opinion that it was changed to stop him alone).  As a result, he was approached to make a Superbowl commercial for Focus on the Family for Pro-Life which made him an instant target for anti-Christian groups and a focus of the media the moment he stepped on the field for the Broncos.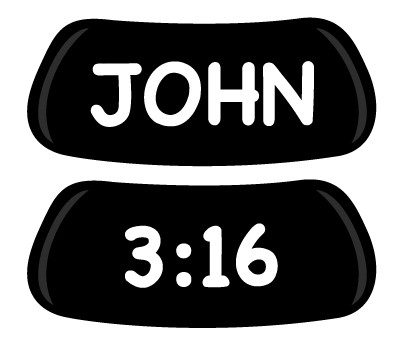 It's my prayer that more players and especially a few of the mainstream sports media, would step up and begin to support Tim Tebow, each other and God in their sport, in their communities and begin to make a difference in the country.  Not because they think it will get them to the Superbowl, because there is a high likelyhood that you are reading this after the Broncos have already lost to the Patriots, but more importantly because God can do amazing things in our lives when we let Him and "no loss is truly a loss when we learn from it."
Have you ever jumped on the bandwagon of a passing fad?  Are there any pictures lurking out there of you Planking or Batmaning?