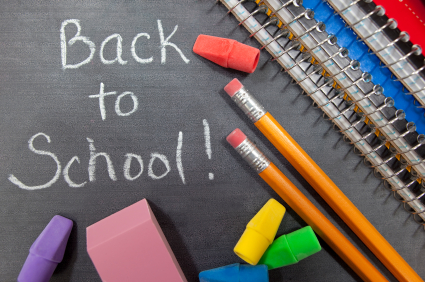 So the summer is coming to an end and the kids are heading back to school.  Parents are running around frantically trying to get everything they think their kids will need to start school.  Things like paper, pencils, prayers, proverbs…wait, did I just say prayers and proverbs?  Yep!  You see, while public schools may not have organized times of prayer (for those of us who are still in a position of sending our kids to public school) there is nothing that prohibits us from preparing them to live for Jesus throughout their school day.  When we are buying our daughter's school clothes we try to buy some of her shirts from stores like C28 in the mall or online so they have bible verses that represent her faith on them.  We also let her pick out folders and composition books with similar messages on them.  Last year we found them at a local WalMart surprisingly. This year she found some folders at C28 that she really liked so we bought those because when your child is showing a desire to express their faith among their friends who are not necessarily regular church attendees it should be encouraged.
Probably more important than all the Christian apparel and supplies you can buy is the way you send them off to school each morning.  Over the years we have had our share of rough mornings…running late, traffic mishaps, and minor things blown out of proportion.  All of which can weigh on your child's day, but one thing I started doing last year when I would drop my daughter off for school was pray with her and remind her that she is God's light in her school.  Now, I was not consistent with this but especially on the rougher days I really tried to remember and this year I am planning on being more intentional about praying with her so when I send her into school, she is prepared to meet the day with a prayer on her heart and the knowledge that God and her daddy love her.
"In the morning, O LORD, you hear my voice; in the morning I lay my requests before you and wait in expectation."  Psalm 5:3
No matter what you do to get your kids ready for their day (pancakes and eggs for breakfast so they are well fed for the days sports and recess play, early bedtime so they are well rested for all the tests and quizzes the teachers presents to them or nice long shower and deodorant so they aren't "stanky" and the kid in the chair next to them isn't picking on them 🙂 ), none of it is as important as preparing them spiritually to have joy in their heart and to be joyful throughout their day.  The Christian shirts and supplies my wife and I buy for our daughter help to remind her as she's learning that God is watching over her and helping her get through her day.  The prayers in the morning are to show her that we care for her, her school and her friends.  When sending your kids off to school, be intentional about preparing not just with the school supplies that are on the list, but with the items God has placed on His list.
"Therefore put on the full armor of God, so that when the day of evil comes, you may be able to stand your ground, and after you have done everything, to stand.  Stand firm then, with the belt of truth buckled around your waist, with the breastplate of righteousness in place, and with your feet fitted with the readiness that comes from the gospel of peace.  In addition to all this, take up the shield of faith, with which you can extinguish all the flaming arrows of the evil one.  Take the helmet of salvation and the sword of the Spirit, which is the word of God."  Ephesians 6:13-17
Do you have any special morning routines you follow on school mornings?
Love In Christ,
David